Gloves for sale | DermaGrip® Ultra LS Nitrile Exam Gloves | Wrp Dermagrip Ultra Lt Nitrile Gloves
DERMAGRIP® Nitrile Extended Cuff Examination Gloves exhibit higher abrasion and puncture resistance than gloves made from Natural Rubber. These characteristics, combined with Nitrile's excellent chemical resistance to a wide range of chemicals, including hydrocarbons, make DERMAGRIP® Nitrile Extended Cuff Examination Gloves the obvious choice for protection.
This glove comes with an extended cuff design, in accordance to the glove standards set by the Personal Protective Equipment Directives (PPE) to provide added protection in high risk and critical situations that require maximum coverage in the handling of various biological and chemical agents as well as exposure to potential physical hazards.
Superior strength with better puncture resistant properties than Natural Rubber. Longer cuff for added protection.
Dermagrip Powder Free Nitrile Gloves, provide an alternative solution for individuals who are allergic to natural rubber latex. Formulated with 100% Nitrile (Acrylonitrile-butadiene), the nitrile gloves do not contain natural latex protein and do not exhibit any chemical residue level when tested with HPLC using water extraction method. The gloves are biocompatibility friendly in addition to providing the usual barrier protection property needed for examination gloves.
Features:
Synthetic Nitrile
Powder Free Non-Sterile
Beaded cuff for easy donning
Latex Free
Textured surface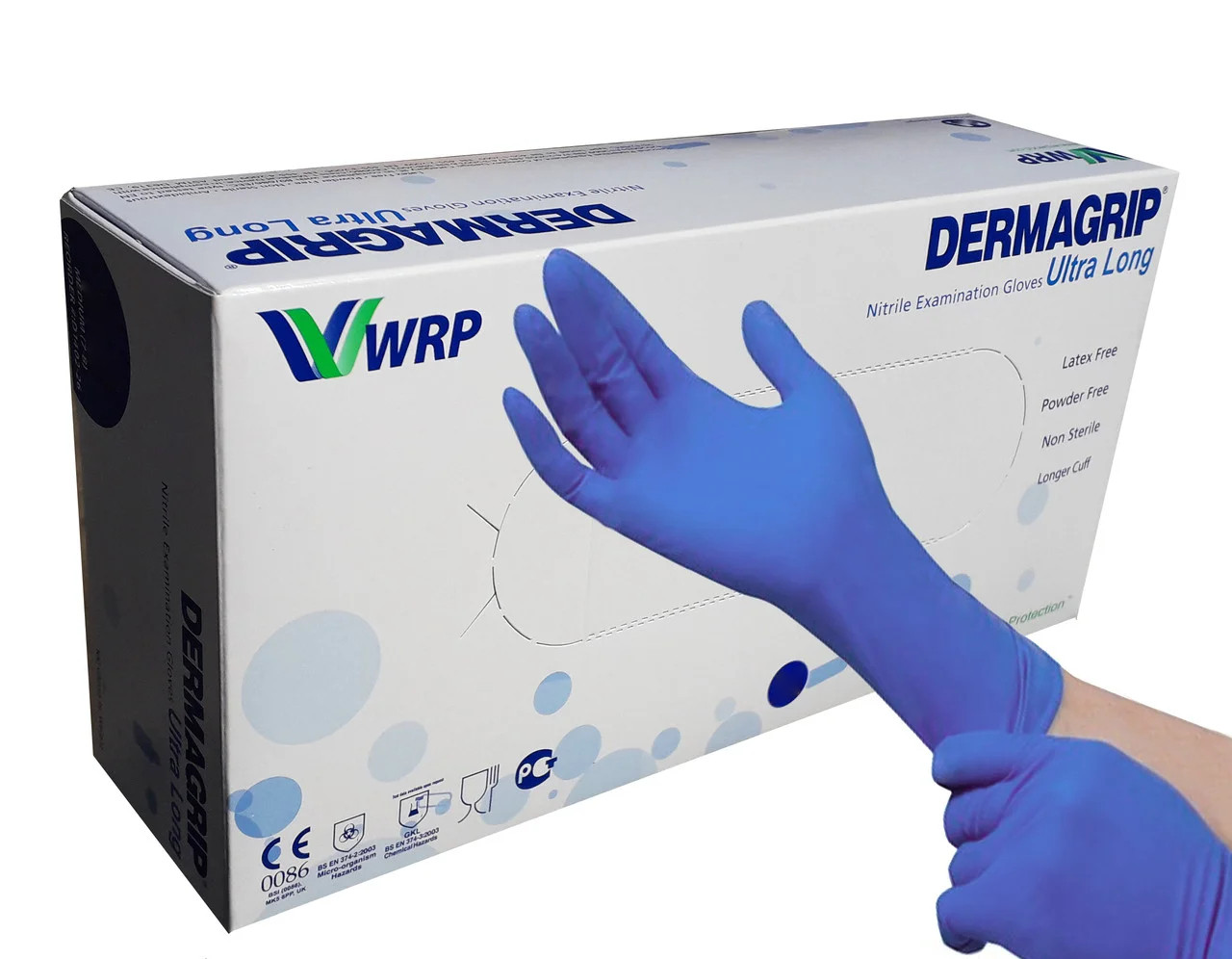 | | |
| --- | --- |
| Type | Powder free , extended cuff and non-sterile examination gloves |
| Primary Materials | 100% nitrile (Acrylonitrile-butadiene) |
| Powder | No powder lubricant added |
| Color | Blue (PMS 285) |
| Design and Feature | Ambidextrous, finger textured and beaded cuff |
| Packing | 100 gloves per dispenser, 10 dispensers per carton |
| Product Conformance | Medical Device: in compliance with European Medical Device Directive 93/42/EEC (CE Class I)EN 455-1:2000, EN 455-2:2015, EN 455-3:2015, EN 455-4:2009ASTM D6319Personal Protective Equipment of Complex Design Category III, in compliance with 89/686/EEC, type tested to EN 420:2003+A1:2009, EN ISO 374-1:2016 Type B, EN 374-2:2014, EN 16523-1:2015, EN 374-4:2013 & EN ISO 374-5:2016, CE 2797 |
| Quality Assurance | US FDA Quality System Regulations (QSR)ISO9001 Quality Mangement SystemBS EN ISO13485 Quality Systems |
---

Store in cool dry place

Do not expose to water

Latex free

Single use only